GUESS THERE IS ANOTHER COMCAST OUTAGE IN HOLLY MILL
Glad I fired them about 6 months ago and went to Dish Tv with Windstream as the Internet provider.
That light green lump in every other yard is a Comcrap booster or repeater. The one on my property line seems to need a lot of attention.
------------------------------------------------------------------
Entrances look better now that the brush has been thinned out.


Cherokee tax rate rolling back this year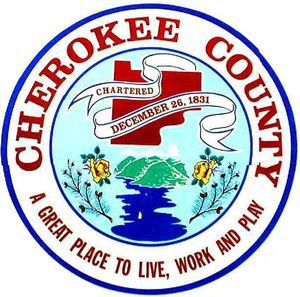 CANTON – Cherokee County residents can expect to enjoy lower tax rates this year, thanks to a rollback in millage rates across the board.
"We look at this and we say, 'Can we enhance services – improve services – and lower the taxes?' And we've been pretty fortunate, with the way we conduct business here, that we're able to do that," County Manager Jerry Cooper said Thursday. "So this year, we're proposing a full rollback in the general millage rate, a reduction of the fire district millage rate and a full rollback plus of the park bond."
A "full rollback" eliminates the effects of inflation on property taxes. The three named rates are paid for by property taxes from the county's residents.
Cooper is proposing a full general fund millage rate rollback from 5.483 in 2017 to this year's 5.364, a reduction in the fire district millage rate from 3.298 to 3.269 and a lowering of the park bond below the full millage rate rollback from .581 to .503.
The rollbacks, which must be adopted by the Cherokee County Board of Commissioners in July and assessed on taxpayers in November, relieve what would be an increase in property taxes caused by inflation if millage rates remained the same, Cooper said.
He presented the millage rate proposals at the June 5 regular meeting of the board of commissioners, saying that the county would be able to "meet the budget needs of agencies and departments while lowering the property tax rates, giving back to residents and business owners of Cherokee County."
Cooper said Thursday that yearly meetings with all agencies and departments for analyses of needs and overall performance gives the county a better picture of expected costs year over year and allows staff to continue their success in planning.
"The millage rates are key elements of the budget, especially the 'operating' fund portions," Cherokee County Commission Chair Buzz Ahrens said in an email Thursday.
The county's ability to maintain high-quality services and a low tax rate shows staff is "managing its assets efficiently and managing its growth responsibly," Ahrens said, adding that there appears to be "positive momentum" and "no dark clouds on the horizon."
Sales tax and other taxes and charges for services, plus reserves, balance the rest of the budget, Ahrens said.
According to Cooper's millage rate proposal, planned tax spending for fiscal year 2019 includes:
• Fourteen new jailer positions paid for for three years;
• Five additional emergency communications center personnel;
• Twenty-two new fire and emergency services and four EMS staff members
• A 3-percent cost of living adjustment for employees;
• $600,000 to fully fund inmate medical costs
• Additional money for right-of-way mowing
• Use of reserves to pay down additional debt at the start of the New Year; and
• $250,000 for the Sheriff's Office to hire a drug enforcement detective and a drug analyst, as well as to pay for education and contribute to accountability court programs.
Public hearings on the proposed millage rates are scheduled for three 6 p.m. commission meetings: June 19, July 10 and July 24. A vote to adopt millage rates will also take place at the July 24 meeting.
The Cherokee County Board of Commissioners meets at the administrative building at The Bluffs in Canton. For more information or agendas, visit
cherokeega.com
.